Debbie Cochran's Latest Single is "What's Going On" at Traditional Country Radio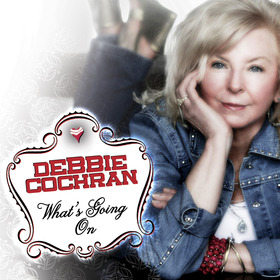 Traditional country songstress Debbie Cochran is winning over radio stations across the country with her latest single "What's Going On."

Produced by Grammy nominated Kent Wells (Dolly Parton), Debbie is staying true to her traditional roots as she mixes relatable lyrics and passionate vocals with a classic yet refreshing sound. Her southern soulful charm strikes a chord with listeners, as well as critics, as the single has been receiving rave reviews.

"Her warm, resonant alto is super compelling. In the ballad's lyric, he's drifting away from her, and you hang on every word. Vibrantly listenable." - Renowned Music Critic, Robert K. Oermann, Music Row Magazine

"It has been a long time since I heard a true 'country artist,' but Debbie has a sound that reminds me of the days of Dottie West, Donna Fargo. She has a soulful country sound that is very radio friendly." - Jerry Proctor, Music/Program Director for WTYS AM-FM, Marianna, FL

"'What's Going On' is doing well. Debbie is so loved here. One of our favorites. I even recorded a special intro for this song. I love it!" - Ken Bass, Broadcast Engineer for KALH-FM, Tularosa, NM

"Our listeners enjoy Debbie's mature voice… and her traditional country sound." - Kevin Allen, Program Director for WKJC-FM, Tawas City, MI

"We absolutely love "What's Going On." Debbie's voice has that deep old soulful sound, and that translates well on radio." - Sheena Dickey, Program Director for KNEM/KNMO, Nevada, MO

"Listeners are requesting "What's Going On," and it's doing well! Her heartfelt lyrics really hit home with our audience." - Kevin Davidson, Program Director for WJSN-FM, Jackson, KY

Debbie traverses a path to fulfill her lifelong dream of being a recording artist and is proving that it's never too late to pursue your childhood aspirations. This wholesome, inspiring 'halo-country' tune is off her latest album, Before We Met The World. This "Helen Mirren meets Debbie Boone" performer is winning the hearts of radio stations and fans nationwide. She recently performed in Iowa at the annual Winnebago Grand National Rally, which draws in over 1600 motor homes. Her previous release, It's Never Too Late, received Music Row Magazine's DisCovery Award from country tastemaker Robert K. Oermann. Her story and music spreads smiles and serves as a testament to the vitality of the human spirit. She lives her lyrics everyday by stepping in the studio, writing new songs and gracing the spotlight. For more information on Debbie Cochran, please visit www.DebbieCochran.com or www.Facebook.com/DebbieCochranMusic.