Traditional Country Radio is Graced with a Timeless Tune by Songstress Debbie Cochran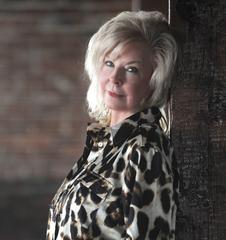 With musical influences like Loretta Lynn, Kitty Wells and Reba McEntire, there's no denying that country recording artist Debbie Cochran is proving that her traditional roots are embedded in her music.

Her 'love em' and leave em' single, When You're Loving Me, has the sweet sound of classic country music that listeners look forward to hearing from Debbie. Her soulful vocals and time-honored sound has been receiving great praise from radio and industry critics.
"Her languid, lustrous, throaty, confident, slightly bluesy delivery is enchanting. The band locks into a steady groove behind her on this seductive, mid-tempo outing. Dreamy listening."
- Robert K. Oermann, renowned music critic, Music Row Magazine
"I love her music, her style and her vocal ability. Debbie has always been one of my favorite artists. I love her single 'When You're Loving Me' and cannot wait to hear more!"
- Rick Wesley, General Manager/Program Director, RLKY-FM, Liberty KY
"Debbie Cochran can effectively tell the story of her 'Never Too Late' music career with a flow as smooth as the lyrics in her songs. It's not the first time I've interviewed Debbie and doubt that it will be the last since I expect that the popularity of her traditional county song styling will grow in popularity."
- Ken Bass, Program Director, KALH-FM, Alamogordo New Mexico
"Debbie brings back the special feel of real country music. You can actually hear her vocals and the music doesn't over power her voice. You can hear the soul in Debbie's voice and that makes her music even more enjoyable."
- Sheila Vest, Station Manager, Kix 96 WNKX-FM, Centerville TN
"We are very selective in our music meetings. If we don't really like the artist or the song we will not put them in rotation and we have Debbie playing. Keep up the good work Debbie!!"
- Monte Lyons, Operations Manager/ Midday On-air Personality, KTMO-FM, Kennett MO
Debbie traverses a path to fulfill her lifelong dream of being a recording artist and is proving that it's never too late to pursue your childhood aspirations. This wholesome, inspiring 'halo-country' tune is off her album, Before We Met The World, which was produced by Grammy nominated Kent Wells (Dolly Parton). This "Helen Mirren meets Debbie Boone" performer is winning the hearts of radio stations and fans nationwide. She is recently on the road performing in Iowa at the annual Winnebago Grand National Rally, which draws in over 1600 motor homes. Her previous release, It's Never Too Late, received Music Row Magazine's DisCovery Award from country tastemaker Robert K. Oermann. Her story and music spreads smiles and serves as a testament to the vitality of the human spirit. She lives her lyrics everyday by stepping in the studio, writing new songs and gracing the spotlight. For more information on Debbie Cochran, please visit
www.DebbieCochran.com
or
www.Facebook.com/DebbieCochranMusic
.
###

For media requests, contact PLA Media at 615-327-0100.