Traditional Country Artist Debbie Cochran Releases Wholesome Love Song to Radio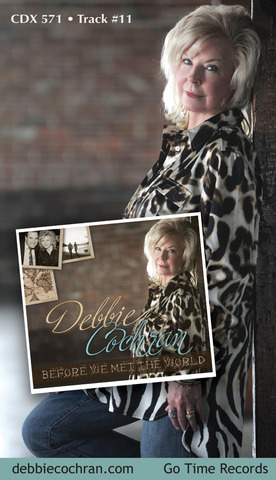 With Debbie Cochran's wholesome, inspiring 'halo-country' sound, classic country radio is geared up and ready to play her new single, When You're Loving Me.

This love song is now impacting radio. Music Programmers can find it on the newest CDX #571. It is also available on AirPlay Direct (see link below).

"My mother told me one day while she was watching GAC's top country love songs that I needed to write a love em' and leave em' song," says Debbie. "She's the one that inspired this song and I am looking forward to hearing what everyone thinks of it."

With musical influences like Loretta Lynn, Kitty Wells and Reba McEntire, this traditional country artist is winning the hearts of radio stations and critics nationwide. She has already secured positive feedback from country tastemaker, including earning Music Row Magazine's DisCovery Award.

Debbie traverses a path to fulfill her lifelong dream of being a recording artist and is proving that it's never too late to pursue your childhood aspirations. This Helen Mirren meets Debbie Boone performer, has teamed up with well-known producer Kent Wells (Dolly Parton) and is gearing up to release her next album. Her story and music spreads smiles and serves as a testament to the vitality of the human spirit. She lives her lyrics everyday by stepping in the studio, writing new songs and gracing the spotlight.

For more information on Debbie Cochran, please visit www.DebbieCochran.com
or www.Facebook.com/DebbieCochranMusic.

###

For media requests, contact PLA Media at 615-327-0100.